Audrey R. Kimmel
Marketing Assistant
"The best part about working for the Bill Gladstone Group is the team environment. We are all active players with a specific skill set to contribute to the team. In return, producing creative and quality results."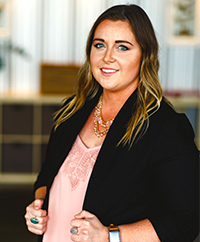 Audrey (Audi) is responsible for keeping the Group's social media presence relevant and engaging while also assisting with the overall marketing operations. She assists the marketing department with important daily tasks while also keeping the Group organized and on schedule. She coordinates and schedules property specific mailings as well as extensive research to compile targeted mailing lists.
Outside of the office, Audi enjoys giving back to her hometown community, Dillsburg, and volunteering on various platforms. Audi resides with her son in Dillsburg, PA.
Audrey Kimmel is a licensed REALTOR. PA License #RS349775.