By Laura Potthoff
The purpose of economic development agencies is to help communities thrive. Every town, municipality and community needs jobs and businesses to foster growth and attract new residents and visitors. From offering funding and financing to providing redevelopment strategies and incentives, economic development agencies have many methods that contribute to growth and higher quality of life for residents.
Cumberland County Pennsylvania is growing every day with the help of the Cumberland Area Economic Development Corporation (CAEDC). An agency founded by the Cumberland County Board of Commissioners, CAEDC offers a wealth of resources and strategies to help maintain and improve the area's economy and tourism assets.
Like other economic development agencies, CAEDC's greatest service to the community is the ability to create new jobs and opportunities by retaining, growing and attracting businesses. CAEDC works with businesses and community members to ensure workforce growth and to provide the region with improvements in jobs and quality of life.
CAEDC is also the designated tourism promotion agency for Cumberland County and conducts destination marketing in an effort to sell the area as a desirable tourist destination. Tourism is a significant part of economic development and boosts the economy by providing new and increased customers to local businesses — meaning it benefits both business owners and the surrounding community.
Economic development agencies can provide a range of services, including the following.
Financing: If you want to expand your business, economic development agencies help identify a funding solution that is suited to your needs. At CAEDC, we can offer low-interest loans, grants and access to funding that can help take some of the financial burden off your shoulders and bridge the gap between traditional bank financing and total project costs.
Incentive Programs: Certified economic development agencies have access to several incentive programs that you may qualify for, such as public funding and tax incremental financing.
Information: Organizations like CAEDC have access to demographics, tax information, key industries, transportation, workforce data and more.
Networking: In the business world, it's crucial to have a strong networking system. CAEDC offers a number of events and development services throughout the year, which will help business owners make connections with other businesses, contractors, community members, service providers or local, state and federal government officials.
Financing programs are very customizable and can be tailored to meet specific project needs. Below are a few programs CAEDC has used with partners to grow their businesses, followed by case studies. All loan programs offer a second lien position.
Small Business Administration (SBA) 504 loans provide long-term, fixed rate, low-equity economic development financing for small businesses to acquire, improve or construct real estate, and/or purchase major fixed assets for expansion. SBA 504 financing is performed in conjunction with a bank partner and requires a minimum 10% equity injection.
Pennsylvania Industrial Development Authority (PIDA) loans provide low-interest financing for land and building acquisition, machinery and equipment, working capital and energy-efficient projects. Applications for PIDA eligible projects in Cumberland County need to be submitted through CAEDC. PIDA loan benefits include a low interest rate and the opportunity to cover up to 50% of the total project cost.
CAEDC also has access to a variety of internal loan programs that benefit energy-efficient projects, tourism-related businesses and small business expansion projects. These internal programs benefit businesses by offering interest rates as low as 2% and bridge the gap to help projects that would otherwise not be possible.
CAEDC's tourism product development, sales and marketing grants are available to businesses looking to increase tourism to the area or enhance the visitor experience. The Tourism Product Development Grant is a rolling, matching funds program that can be used for the development of thematic trails/tours, technical assistance and asset, event or meeting/conference expansion or development.
Success Stories:
CAEDC assisted Commercial Flooring with a $200,000 PIDA loan for the purchase and complete renovations of their new location in Camp Hill, PA. This family business is the commercial division of M&Z Carpets and Flooring and specializes in senior-living facilities, schools, churches, businesses and tourism venues.
Bessie's Best Lactation Cookies received an $88,500 investment through the internal Cumberland Revolving Energy Loan Fund to install energy efficient components such as solar panels. They sell products that help breast-feeding mothers produce more milk.
Weidner Construction Services received a $380,000 investment through a PIDA loan for the purchase and construction of their new corporate office in Mechanicsburg, PA, to allow for increased staff and construction space. Weidner specializes in commercial construction projects.
The Watershed Pub received a $100,000 investment through CAEDC's internal Tourism Infrastructure Loan Fund for the purchase and renovation of an existing building in Camp Hill, PA. The current owners of Millworks in Harrisburg are opening this location as a restaurant and taproom to expand the reach of their already successful craft beers.
CAEDC assisted Classic Drycleaners with a $140,000 investment through the Cumberland Revolving Energy Loan Fund for energy efficient equipment upgrades in their Lower Allen Township location. Classic Drycleaners offers nine dry cleaning stores, five laundromats and free home and office delivery service.
Molly Pitcher Brewing Company in Carlisle, PA, received a $69,048 Tourism Product Development Grant for the addition of a custom pergola to their back patio. The pergola includes event lighting, heaters and retractable/expandable sides to expand seating and protect customers from the elements.
Lafferty Lumber received a $625,000 investment through the Small Business Administration 504 program for the rebuild, construction and equipment that was lost during a 2016 fire. They are a wholesale distributor of hardwood and softwood lumber and millwork company.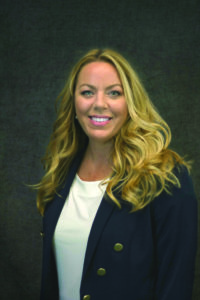 Laura Potthoff
Cumberland Area Economic Development Corporation (CAEDC)
Laura Potthoff is CAEDC's Director of Business & Workforce Development. She is responsible for managing CAEDC's new and existing relationships with partners to help generate business opportunities and workforce development in Cumberland County. She has experience in program management, relationship management, recruitment and retention, and budget analysis. She joined CAEDC in 2014. You can reach her at laura@cumberlandbusiness.com or (717) 240-7197. Visit cumberlandbusiness.com for more information.
Featured in Commercial Real Estate Review – First Quarter 2020