Emergency Veterinary Center Offers Expert Care and Compassion
Few things can cause fear for a pet owner like an after-hours trauma or emergency. There are hospital emergency rooms and urgent care facilities to handle family members' health emergencies, but where does a pet owner turn when the family member in need is the pet and the local veterinarian is either closed or not equipped to provide trauma-level care? In these cases, pets and their owners need the expert care and compassion provided by an emergency veterinary center.
Recognizing an increased need for emergency and trauma veterinary care in Central Pennsylvania, Dr. Ivan and Sharon Pryor, owners of Dillsburg Veterinary Center, opened Shores Veterinary Emergency Center in December 2017. Through his years of practicing in Dillsburg, Dr. Pryor found himself referring patients to emergency veterinarian facilities in Mechanicsburg, York, and Lancaster. The Pryors soon realized pet owners in Central Pennsylvania would benefit from a centrally located facility designed and equipped to handle the emergency and urgent care needs of cats, dogs, and pocket pets.
In 2015, the Pryors began looking for a property with the assistance of the Bill Gladstone Group of NAI CIR. It took approximately one year to find a property that offered convenient access to Harrisburg's East Shore and West Shore and the rest of Central Pennsylvania, as well as adequate space to grow and expand the hospital's services in years to come. Ultimately, the Pryors purchased the former Sacunas headquarters building situated on three acres at 835 Sir Thomas Court in Harrisburg for $1.425 million. The site is easily accessible from Interstates 83 and 81, the two main corridors through Central Pennsylvania.
The Pryors completely gutted the interior of the building and started with a blank slate. Landisville-based Professional Design & Construction Inc. provided design and construction services for this 9,600-square-foot, state-of-the-art emergency veterinary facility. In addition to two surgical suites and eight treatment rooms, Shores uniquely features a separate visitor room with oxygen capabilities, which offers owners the ability to spend quality time with their pets during treatment and recovery. A separate entrance for trauma cases provides direct access to immediate triage services, allowing the primary entrance and waiting area to remain a tranquil place for anxious pets and their owners.
The second floor of Shores features a 40-seat conference room. Shores offers complimentary use of this space to the local veterinary community to host meetings and gather to discuss important topics. Zoetis recently used the meeting space for a presentation, and Shores is working with the Pennsylvania Veterinary Medical Association on opportunities to use the space.
Later this year, Shores plans to open an outside sanctuary, which will provide a less clinical setting for euthanasia. "Unfortunately, euthanasia is a part of emergency and trauma veterinary care," Sharon said. "We want to offer pet owners options if the time comes to say good-bye to a pet. Some families may be more comfortable choosing an outdoor setting, which can also be less stressful for pets who love the outdoors."
Future expansion plans include the addition of a specialty referral center to provide local access to veterinary specialists. Currently, Central Pennsylvania pet owners generally must travel with their pets to Maryland, Northeast Pennsylvania, or the Philadelphia region to be seen by veterinary specialists. Having local access to specialists will be reduce trauma and anxiety for both pets and their owners.
Shores does not provide routine, preventative care, such as wellness visits, vaccinations, or spay/neuter services. For those services, pet owners are encouraged to find and use a local veterinary practice. Shores is a resource for expert emergency treatment, including:
• Emergency Surgery
• In-House Laboratory
• Digital Radiography and Ultrasonography
• Oxygen Therapy
• Transfusion Therapy
• Critical Care and Monitoring
"Our goal is to develop strong partnerships and relationships with local veterinary practices across the region," Sharon emphasizes. "We want patients to continue relying on their local veterinarians for routine care and turn to Shores for after-hours urgent care or for care during an unexpected emergency."
Before opening Shores, the Pryors diligently sought and recruited a team of highly skilled, compassionate, and experienced doctors and nurses. Currently, Shores is open all weekend from 6 p.m. on Friday through 8 a.m. Tuesday. They are also open overnight on Tuesdays, Wednesdays, and Thursdays. The hospital anticipates expanding to 24/7 hours this summer. Shores is open 24 hours on all major holidays. No appointments are needed. Walk-ins are welcome and Shores suggests that, when possible, owners call ahead to help staff adequately prepare for and anticipate the pet's arrival.
One of the biggest challenges for pet owners who require emergency care is the cost. "We try to do the best we can in advocating for the best interests of the pet and working with owners to make financial arrangements," Sharon notes. In addition to more traditional forms of payment, Shores accepts third-party payment options such as Care Credit and ScratchPay.
Doing their best to ensure Central Pennsylvania pet owners have access to optimal veterinary care isn't just a job for the Pryors — it's their life's work. Beginning their careers in the corporate world, the Pryors knew they wanted to own a veterinary practice. After considering options up and down the East Coast, they settled in Dillsburg in 2005 and opened Dillsburg Veterinary Center. In addition to the Dillsburg practice and Shores, the Pryors and their staff donate time and resources to Mechanicsburg-based Speranza Animal Rescue. In 2017, the Pryors founded the Unleashed Foundation, a non-profit organization which provides financial assistance for necessary veterinary care when owners cannot afford it.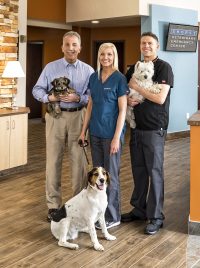 Shores Veterinary Emergency Center
Shores Veterinary Emergency Center is located at 835 Sir Thomas Court, Harrisburg. More information about the emergency center can be found on its website at www.shoresvet.com. Shores can be reached by calling 717.798.8500.
Featured in the Commercial Real Estate Review – First Quarter 2018