By Al Bienstock
Disclaimer: I am prejudiced. As a current Hampden Township commissioner, I am very proud of what has been achieved over the past four decades of growth. The success is due to our staff, the people who make our slogan Where People Come First a reality.
Hampden Township in Cumberland County boasts a rich history, a prime geographical location, and a strong infrastructure that is attractive to both residential and commercial developers.
The area has ties dating back to the earliest days of the Commonwealth of Pennsylvania. One township road is named Penn Ayr Road. According to the developer, the original deed holder was William Penn's son – the Penn heir (ayr). The cornerstone for Historic Peace Church (at the corner of Trindle and St. John's Church Roads) was laid in 1798, and the building was dedicated on May 19, 1799. The church still operates today. In the same area, the Skirmish of Sporting Hill took place in 1863. It was the northernmost engagement of Robert E. Lee's Army of Northern Virginia during the Civil War.
Hampden Township was incorporated in 1845. It was largely an agricultural community until the 1960s, when the population began to grow and housing developments sprang up to accommodate the inflow. At that time, the population was under 7,000. Over the next several decades, it was the fastest growing municipality in Cumberland County and is now home to about 30,000 residents.
Residential growth expanded south-to-north in the township, with a mix of low, medium, and higher income developments. Presently, the township is home to more than 100 residential communities. Several new ones are in the planning stages or under construction.
Commercial development occurred mostly in the southern and northern areas along the four major east-west roadways: Simpson Ferry Road, Trindle Road, Carlisle Pike, and Wertzville Road. The township boasts a wide array of commercial enterprises, from large manufacturing facilities (like Ames True Temper and Ralston Purina), to box stores (like Hobby Lobby and Home Depot), to smaller retail stores, restaurants, and professional offices. It is also home to The Patriot-News. Naval Support Activity Mechanicsburg, built during World War II, is situated in Hampden Township and employs several thousand employees, mostly civilians.
Recognizing that Hampden was running out of developable land, the Board worked with a stakeholders' committee – including residents, businesses, utilities, Naval Support Activity Mechanicsburg, and county, state and federal officials – to find ways to maintain growth, improve infrastructure, and mitigate traffic congestion in the southernmost part of the township, the oldest developed area. The effort resulted in new ordinances providing for zoning and other changes to encourage redevelopment. Those changes are beginning to bear fruit, particularly along the Carlisle Pike.
Residential and commercial growth, along with prudent fiscal management, has been enormously beneficial to the township's finances. The 2019 budget represents the 42nd consecutive year without a property tax rate increase. In fact, the rate has been lowered several times over that period – it is one of the lowest in the state for a full-service community with its own police department.
Hampden has a great array of parks, recreation areas, and walking/biking trails, including a municipal golf course and a swimming pool – both of which are financially self-sufficient and not supported by tax dollars. The township maintains fields for various sports leagues as well as open areas and playgrounds. Hampden recently provided for pickle ball and bocce courts to accommodate residents' interests; a water wall was added to the pool; and new playground equipment replaced outdated items. A new park is being constructed along the Conodoguinet Creek on land donated by a resident. A Veterans Recognition Park is under construction in the northern part of the township, with funds raised by the non-profit Hampden Township Veterans Recognition Committee.
In addition to existing biking/walking trails, the township encourages developers to incorporate new trails into their plans. The 102-bed UPMC PinnacleHealth West Shore Hospital (built in 2014 and currently under expansion) has trails, and new trails are part of the designs for the 108-bed Penn State Health Hampden Hospital now under construction and the proposed new Members 1st corporate headquarters.
The township's 26-person police department is one of only 116 in the Commonwealth accredited by the Pennsylvania Law Enforcement Accreditation Commission. In addition to traditional patrols and crime-solving, it includes one member assigned to the County Drug Task Force, one to liaison with schools, and one trained to work with the Cumberland County Special Response Team. It operates an annual Citizens Police Academy, to make residents aware of its operations.
Hampden's Volunteer Fire Company is financially supported by the township through ownership of the fire stations and funding for the fire apparatus. An annual Citizens Fire Academy provides a hands-on course for residents to understand the workings of the fire department and learn about fire prevention.
Emergency Management Services (EMS) is on call around the clock to respond when life and/or health is at risk. Police, fire, and EMS all have mutual aid agreements with surrounding communities to facilitate maximum response to emergencies.
Communities evolve over time. From the historical Revolutionary Era to today's technological times, the changes here have been incredible. What will it become in the decades and centuries ahead? We can only dream.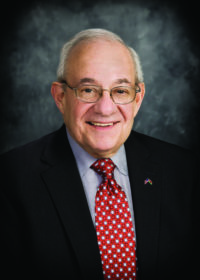 Al Bienstock
Al Bienstock was an Army Security Agency cryptographer in Southeast Asia during the early years of the Vietnam War. Upon returning home, he attended Rutgers University (nights) to continue his college education for a BS degree in Business Management. After 17 years in administration and management positions in finance and credit departments of major corporations (dealing with business clients), he changed careers to be an insurance broker (primarily providing employee benefits programs for business, nonprofit, and governmental enterprises). He retired in 2017. Al has been a Hampden Township commissioner since 2002, and has served as Board president since 2011. You can reach him at abienstock@aol.com.
Featured in Commercial Real Estate Review – Second Quarter 2019