By James Geedy
Personalization. As consumers, we all want it. As businesspeople, we should all use it. "Know your customer" is a basic tenet of marketing, and it's especially critical in a marketplace where target audiences are continuously bombarded with information from a 24/7 news cycle, social media, and yes, even their mailboxes.
Communicating to an audience of one increases the likelihood that your audience will receive—and respond to—your messaging. That's the power of VIP (variable information printing) and omnichannel marketing. Used together or alone, these two tools are essential elements in any successful marketer's toolbox.
Use VIP to Make Your Customer Feel Like One

Personalization can be done on many levels. You may remember the days of receiving the "Dear Customer" letters, which likely left you feeling like unrecognized and unimportant. Now, at minimum, we've come to expect a personalized salutation. Most VIP jobs stay at this level. But with a bit more creativity and the advantages of digital printing, you can design one document with several variable elements that make your customer or potential customer think, "Hey! These guys know me."
More complex VIP customizes messaging and imaging for various customer segments. For example, an athletic shoe store might send the same basic sales announcement (All Shoes 50% Off!) to all customers, but soccer aficionados would see an image of soccer cleats, while basketball mavericks would enjoy an image of the latest basketball kicks. Or, a Realtor could personalize a promotional mailing by ZIP code, showing recently sold properties in a particular area or neighborhood to pique audience interest.
Studies across the board show that VIP generates a higher response rate, faster response time, better content retention, more orders, and a larger order size. Who wouldn't want that?
But Isn't Print Dead?

In this digital world where so many of us are constantly connected online, it's easy to think that marketing has completely shifted to online mediums and that printed promotional material and direct mail have little relevance. But according to the DMA (Data and Marketing Association), U.S. households received 121.2 billion—you read that correctly, BILLION—pieces of mail in 2017. And 90% of interested prospects will visit your website after receiving your direct mail piece. Take some time today to notice all the print around you. You may even be reading the printed version of this issue of Commercial Real Estate Review! The message is clear: Print is alive and well and should be a component of your overall marketing strategy. But it's not enough.
Go Big to Close the Sale

In 2018, no marketing campaign is going to succeed on direct mail alone, but it is a keystone in an omnichannel marketing strategy that leverages the benefits of both print and online marketing to enable you to reach your customers where they are—standing at their mailboxes, surfing the Internet, or scrolling their social media accounts.
One such strategy, My Mailed Media, combines traditional direct mail marketing with online marketing that includes the Google Redirect Network, Facebook, and Instagram. You can monitor all the activity and data from your client dashboard.
It all starts with your direct mail piece. You design a direct mail piece and drop it in the mail. An intelligent bar code is incorporated into the design which allows you to see when your piece is delivered. If your prospect or customer has signed up as part of the USPS Informed Delivery program, your piece will be highlighted in color at the top of their delivery information. So right there, your piece already stands out from the rest and from the client dashboard, you can see who opened and read your piece.
As part of design, you also integrate a unique phone number which allows you to quantify the calls you receive, qualify the leads accordingly, and even use the information for future staff training.
Now it's time to accelerate your campaign. Your mailing may get the prospect to your website, but 96% of prospects will leave a site without taking action. My Mailed Media isn't ready to let your prospect go! Through the use of cookies, those prospects will continue to receive your messaging via Google Redirect ads as they continue to surf the web.
The next focus is reaching your prospects through social media. Fifty-eight percent of Americans use Facebook and/or Instagram, consumers 65 and over are the fastest growing segment of users, the average age of a Facebook user is 40.5, and users spend an average of 56 minutes each day on social media. What those stats tell you is that if you're not using social media to reach your target audience, you're missing a huge opportunity!
Programs like My Mailed Media harness the power of social media and maximize your advantage by incorporating Facebook and Instagram ads into your overall strategy. By overlapping your data list with lists of social media accounts, you can continue to reach your prospects with valuable information, analyze powerful demographic data, and polish your messaging.
Omnichannel marketing results in more prospect touches, more website traffic, more ROI, and more valuable information reaching your intended audiences. And it's affordable. Advances in technology are allowing businesses to take traditional marketing approaches and transform them into broader strategies that provide consumers with the information they need to make informed decisions. The next time you're designing a marketing campaign, take a moment to think beyond the mailbox and use all the tools at your disposal to reach your audience and move them to action.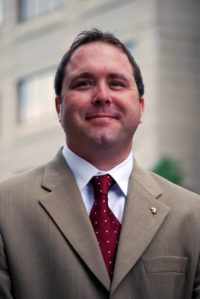 By James Geedy
Hot Frog Print Media
James Geedy is the founder and CEO of Hot Frog Print Media in Mechanicsburg, PA. He is a serial entrepreneur focusing on cutting-edge sales and marketing, including direct mail marketing, email and print marketing, and various other forms of successful communication. His passion is to maintain and nurture client relationships while helping clients achieve a significant and measurable bottom line return on their investment in next-level marketing. You can reach James at (717) 648-1099 or jgeedy@hotfrogmedia.com.
Featured in Commercial Real Estate Review – Third Quarter 2018