By Bill Gladstone, CCIM, SIOR
At the moment you were born, you started learning. A lifetime of learning had begun! You became aware of your immediate environment and started reacting to it. You started to absorb what your senses were telling you and began to learn how to interact with the world around you. Your initial experiences shaped and formed you as you learned to the best of your ability.
As you got older, you started to ask questions – depending on your personality, maybe lots of questions! You developed relationships with people beyond your family. You started your formal education and discovered the ability to fill in blanks in your life as they occurred. You continued to have a more mature set of experiences that helped shape your thinking and your actions as you looked forward to becoming part of the workforce. You learned how to handle yourself in various types of situations. You learned how to maximize opportunities, learn from your failures, and handle yourself in various types of situations. All of this was very meaningful progress.
If you stayed on course, you advanced yourself, not only academically but also in the intangible life skills necessary for success, such as successful person-to-person interaction, respect, and vision. I am sure most of this was done subconsciously, a by-product of your formal and informal education to date. At this point in life, you had the advantage of combining these two arenas of your life, assisting you in determining a destiny for yourself.
You continued to discern right from wrong, and became more astute at defining the difference between moral and immoral as well as ethical versus unethical. Your future was being shaped. You began to define a path for your future that you could control. If you took advantage of educational opportunities, you were better prepared for your chosen career.
Whatever career table you are seated at now, your cumulative education will have served you well if the skill set you developed allows you to add value to your daily interactions. When you add value, people listen, ideas take shape, and results occur. Are you adding value to your workplace, to your coworkers' experiences, to your family and community? Don't miss your opportunity. Draw upon lessons learned, both in your formal education and through life experience. Be creative in discerning how you can add value: Identify a need and fill it. Work to exceed client expectations. Never settle for less than the best.
We all have the opportunity to add value each day. Those who do are game changers, whether they are behind-the-scenes or on the front lines. Teams are stronger when each member understands what they bring to the table and how it contributes to overall success.
Go for it! The future awaits.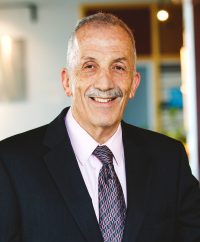 Bill Gladstone, CCIM, SIOR
NAI CIR - Bill Gladstone Group of NAI CIR
Bill has been active in commercial real estate since 1987 and has been among the top three agents at NAI CIR in Lemoyne, PA for the last 10 years. His continued success is a direct result of the value-added services he provides to all the transactions, regardless of size. As part of a group of six, he oversees the marketing for a revolving inventory of approximately 85 listings and over 300 acres of land. He is a CCIM and SIOR, two of the most prestigious designations in the field of commercial real estate.
Featured in Commercial Real Estate Review – Second Quarter 2019