By Bill Gladstone, CCIM, SIOR
So many transactions, so many deals never get out of the blocks because the extra push they needed to get rolling never happened. Someone got busy, distracted, or just lost focus. The deal that could have been a huge success never materialized. And remember that success comes in many sizes and shapes, so although it is generally about the money, there are times when the lease or sale of real estate can also provide non-monetary solutions for issues of importance to a variety of people. Sometimes it separates people who should never have started a business relationship. Perhaps it allows other pieces of the puzzle to be addressed once the real estate portion is resolved. Or maybe it is a way forward for a struggling organization or association.
In any case, success requires someone who is watching, understands risk versus reward, and enjoys making it happen. That could be you! Can you see the future and do you have a desire to be part of it? Do you like to experience the thrill of the deal and believe that if you stay focused you can make it happen? Technology provides you with vast and incredible opportunities to be more immersed in your transaction. Take advantage of it!
Do yourself a favor and think of yourself as an agent of change or your own client of the future. Envision the deal the way it works for you and if you have to eventually back down to more conventional thinking, you can do so. But on the front end, be creative and innovative – make the difference! When you see these opportunities, capitalize on the experience and knowledge you have by resolving issues and making your life better. You are an agent of change! Can you make it a 10-year NNN lease with a national credit worthy tenant? Can you use your skill set to conjure up the economics of two competing investment deals, and then selecting the one most appropriate for your lifestyle? And what if a build-to-suit lease for a strong credit tenant shows up? Why should you not consider yourself as a candidate for that deal?
Remain vigilant and uniquely position yourself to utilize your knowledge and skill set to remain at the forefront of the information pathway within the marketplace. You will hear about the good deals coming forward, and you can make it happen so your ideal transactions do not slip away from being your golden opportunities. Push for the results you know you can deliver and you can't do anything but make it happen. You will be your own agent of change, your own agent of the future.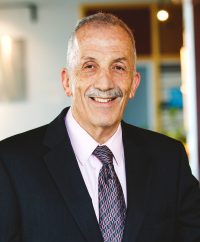 Bill Gladstone, CCIM, SIOR
NAI CIR - Bill Gladstone Group
Bill has been active in commercial real estate since 1987 and has been among the top three agents at NAI CIR in Lemoyne, PA for the last 10 years. His continued success is a direct result of the value-added services he provides to all the transactions, regardless of size. As part of a group of six, he oversees the marketing for a revolving inventory of approximately 85 listings and over 300 acres of land. He is a CCIM and SIOR, two of the most prestigious designations in the field of commercial real estate.
Featured in the Commercial Real Estate Review – First Quarter 2018