By Bill Gladstone, CCIM, SIOR
It probably isn't important why the coronavirus showed up, but just to acknowledge that it is here. The "why" is a whole different story. But now that there is more free time for all of us, what is the best way for us to use it?
We can lament that we are all losing business and we will be behind the eight ball when we get closer to the old normal that we all knew and in which we worked and thrived. Of course, depending on what we did with our time during this "new normal," lamenting is a possible option. But if we can't control this event, why cry over it? Perhaps a better use of our time is to focus on what we can do to push ourselves forward, taking the time to see how good we really are in the midst of a challenge the likes of which we may never see again in our lifetimes. This definitely is not business as usual!
What we need (and now we have the time do) is to discover ways of doing "business as unusual." But what are those mechanics? How do we find the pieces to put in place so we can meet that challenge? We've never had to do this before and we have no printed or digital resources to study so we can put our best foot forward. So, what do we do and how do we do it?
How you decide to use this time could be the most important challenge in your life, one which you may or may not choose to face. If you are willing to accept that challenge, you will need to be very innovative. With no resources to consult, you will need to create your own path to take you where you want to be when this has all passed. But now you have the time to find that path. You will need to be inventive, creative, and driven. Look at this period of time as the time you have always wished you had to create pathways that maximize your business acumen. What are those new ideas you've never had time to develop or the programs you've never been able to install that make you more proficient than you have ever been in the past?
When this is all over, and it will be, there will be pent-up demand. Your challenge is to innovatively capture more than your fair share of that new business because you did what many others chose not to do: plan for business "as unusual."
We wish you the best in your efforts!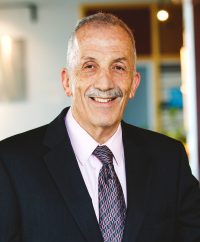 Bill Gladstone, CCIM, SIOR
NAI CIR - Bill Gladstone Group
Bill has been active in commercial real estate since 1987 and has been among the top three agents at NAI CIR in Lemoyne, PA for the last 10 years. His continued success is a direct result of the value-added services he provides to all the transactions, regardless of size. As part of a group of six, he oversees the marketing for a revolving inventory of approximately 85 listings and over 300 acres of land. He is a CCIM and SIOR, two of the most prestigious designations in the field of commercial real estate.
Featured in Commercial Real Estate Review – First Quarter 2020