By Bill Gladstone, CCIM, SIOR
This season, we should be thinking about ourselves. Yes, that's right: We should be thinking about ourselves and our giving habits. I hope you don't look at this as just another advertisement for some charity, one of the thousands that are out there — this is not that. I would just like you to take some time and think about what you have in comparison to what others might not have and the efforts they are making. Some are struggling to take care of their families and, in some cases, to just stay alive.
Our country's homelessness and hunger situations always increase during the winter months and have now exploded, compounded by COVID-19. People who never stood in an unemployment line, never waited at a food bank, and never had a notice of eviction are now finding these struggles are a part of daily life. It's common for us to hear or read stories of how people ended up in their current distressed situation. It's mind-boggling in some instances. These are often individuals who, pre-pandemic, collected a paycheck every two weeks and had worked for and maybe even attained the American Dream. It is almost incomprehensible.
I don't believe there is any one charity or cause that outweighs another. The only thing that matters is trying to help individuals in their time of need. Last holiday season, my Group embarked on a campaign we called "Five in Ten." We donated to five different charities in 10 days: Caitlin Smiles in Harrisburg, Humane Society of Harrisburg, Medical Outreach of Harrisburg, Hospice of Central PA, and VA Medical Outreach in Lebanon. We tried to hit every aspect of our social strata from pets to vets, from children to hospice. We called to find out what each charity needed and our entire group personally delivered our donation to these organizations.
And this year, after recently seeing a news report of the devastating problems families are facing with evictions and paying rent, I called the organization being highlighted – We Thrive Renters in Austell, Georgia to see how our Group could assist. We decided to donate rent money that will be divided among those families most in need and also Walmart gift cards that will be gifted to them during this holiday season.
That is all I am asking you to do if you are in a position to help. Find an organization that you can support. Call, ask what they can use for their clients, and then take the time to purchase it for them. This is sometimes a much better approach than just writing them a check. Your time will help maximize the dollars of your investment into their efforts.
You can feel good about helping people take care of their families and staying alive. You may never know exactly who your product served, but you can be very proud of your efforts to resolve a need for people just like you and me who were doing just fine less than a year ago.
I hope you take this message to heart and consider helping people who need your support at this time. Bless you and best wishes for a happy NEW year.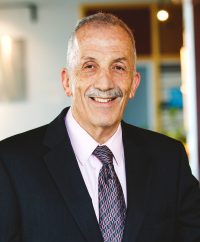 Bill Gladstone, CCIM, SIOR
NAI CIR - Bill Gladstone Group
Bill has been active in commercial real estate since 1987 and has been among the top three agents at NAI CIR in Lemoyne, PA for the last 10 years. His continued success is a direct result of the value-added services he provides to all the transactions, regardless of size. As part of a group of six, he oversees the marketing for a revolving inventory of approximately 85 listings and over 300 acres of land. He is a CCIM and SIOR, two of the most prestigious designations in the field of commercial real estate.
Featured in Commercial Real Estate Review – Fourth Quarter 2020