By Bill Gladstone, CCIM, SIOR
Remember how difficult it was when you first got in the business? You sat alone at your desk and your only interaction with colleagues was when you had a question. Remember the frustration of being unsure what questions you even needed to ask?
How much faster would your career have accelerated if you had a mentor at your side —someone who knew the questions, understood the ramifications based on experience, and could shorten your very steep learning curve?
When I started with NAI CIR (CIR at that time), we were on two floors. My "cube" was in the back-left corner of the first floor in the area designated for newly hired agents. The seasoned agents (and possible mentors) were all on the second floor and there was no reason for them to come to the first floor. I spent a lot of time by myself, trying to figure it all out. I had no idea what to do, how to implement what I did come up with, or how to monetize it. Eventually I figured some of it out (I'm still learning) as now I have developed a team of six that I support.
I often wonder how quickly I could have accelerated my career if I had a mentor to facilitate my desire to learn commercial real estate brokerage. With a mentor at my side, it would have been easier to meet the demands of the business much earlier, yielding a much larger, active client base sooner.
In those early days, I stayed late because I spent all day trying to connect with people who could be instrumental in helping me move my business plan forward. I knew I had earned no income that particular day and when I got home that night, a new set of bills would have arrived. I remember going in a variety of directions which, in retrospect, I should not have attempted. Those paths took me to places of very little usefulness and provided no opportunity to earn income. It may not have been a total waste of time, as there is always the opportunity to learn from mistakes.
In the beginning, trying to move forward, learn the business, and stay motivated in the face of each obstacle, it was hard to keep a positive attitude and stay focused in an effort to make a career out of commercial brokerage. I had no choice. I was too far into it to give up and start over in a different field. A mentor would have been a real asset and could have saved me time.
Maybe you have been nodding along with my story or maybe you are at the starting line and wishing you had a mentor. If you don't have a mentor, I highly encourage you to find one. When you are fortunate enough to have a mentor, continue to take responsibility for your own self-development. Your mentor may not always be available and you will need to use what you have already learned and do the best you can.
Using both pathways, you can gain knowledge and expertise from your mentor while assuming responsibility for your professional growth and your future. In any business, the combination of mentorship and personal responsibility will contribute to your success, but having a mentor can offer a huge advantage throughout your career.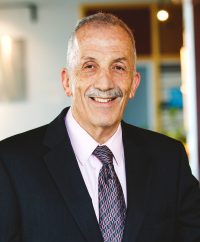 Bill Gladstone, CCIM, SIOR
NAI CIR - Bill Gladstone Group
Bill has been active in commercial real estate since 1987 and has been among the top three agents at NAI CIR in Lemoyne, PA for the last 10 years. His continued success is a direct result of the value-added services he provides to all the transactions, regardless of size. As part of a group of six, he oversees the marketing for a revolving inventory of approximately 85 listings and over 300 acres of land. He is a CCIM and SIOR, two of the most prestigious designations in the field of commercial real estate.
Featured in Commercial Real Estate Review – Third Quarter 2019