By Bill Gladstone, CCIM, SIOR
In most cases, you will make the best use of your time and have the highest probability of closing an event if you take control from the beginning. You want to be able to guide the course of events so that you can follow through and make sure your transaction, presentation, or other event comes to a focused and successful ending. As easy as that sounds, it takes a combination of finesse, perseverance, knowledge, and experience.
You must understand the chemistry between you and the others involved. You need to be continually assessing that situation and constantly making appropriate adjustments.
Over the years I have seen situations where people have interpreted "taking control" in a variety of ways. Some people think it means doing the talking and directing people to accomplish certain items within specified periods of time. Some assume that having control is talking more than anyone else in the room, and some believe it means talking over everyone else. And then there are those who believe having control is obtaining the most and best information about the current situation.
Remember, people enjoy engaging with and helping others. The way individuals approach certain issues is different. Your challenge (it can be done) is to realize what each individual needs to get their highest level of participation. Once you do that, you are in control.
Keep in mind, as you try to bring others with you in solving the concerns, you want them to engage and help you with the issue. Generally, engagement is easier and offers a higher probability of a successful ending in a reasonable period of time versus "powering through it" by yourself.
But you need to find your own approach. Just because I find my best results one way does not make it right for you. Spend the time it takes to figure out your best way to be in control when that needs to happen.
Once you have control, use it to your advantage, so that people continue to listen to you and respect your position. Chances of a successful transaction increase dramatically by keeping everyone focused on the outcome. Not only do you close the event, you leave a favorable impression. In the future they will look forward to working with you again. You only help yourself by staying in control and making people glad that you are.
Years ago, there was an agent in my office who asked if he could shadow me for the day. I asked for what purpose? He wanted to learn more about what I do so he could also do it to move his career along faster. I told him I'd be glad to oblige, but he wouldn't have to do it for a full day, perhaps only my first two appointments.
The first was a listing presentation. That went rather well and I got the listing. Next was an on-site meeting in a space for which a lease proposal had been signed. The tenant and landlord were both there. I wanted to make sure we clearly understood every business term in the three-page proposal before we proceeded to spend money having attorneys prepare and provide comments to their clients. Asking very specific questions and listening to the answers while keeping both parties on topic were essential to getting that meeting to a short and successful conclusion.
After those two meetings, I asked the agent what he learned. He named a few of the more obvious items: knowledge, finding the right space for the tenant, and listening…all were important. "Taking control" eluded him and I expected that. Until you go through various scenarios a number of times you don't generally prepare for it. But if you want to maximize your rate of success and minimize your time in any one deal, I would suggest taking control from the beginning has a lot to do with it. Good luck!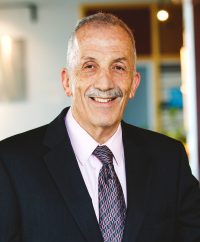 Bill Gladstone, CCIM, SIOR
NAI CIR - Bill Gladstone Group
Bill has been active in commercial real estate since 1987 and has been among the top three agents at NAI CIR in Lemoyne, PA for the last 10 years. His continued success is a direct result of the value-added services he provides to all the transactions, regardless of size. As part of a group of six, he oversees the marketing for a revolving inventory of approximately 85 listings and over 300 acres of land. He is a CCIM and SIOR, two of the most prestigious designations in the field of commercial real estate.
Featured in Commercial Real Estate Review – First Quarter 2019