By Bill Gladstone, CCIM, SIOR
If you look at any situation over the long (and even the short) term, there is always risk. You cannot alleviate risk; however, in both business and in your personal life you can strive to minimize any impact risk might have. Typically though, the greater the risk, the greater the reward. Alternatively, the less risk, the less the reward. Are you ready to deal with risk?
From a personal standpoint, I think back to the end of my restaurant career. I was attempting a turnaround of Dutch Pantry, the chain I was running at the time. After three years, it did not work and we went from Chapter 11 (bankruptcy protection) to Chapter 7 (liquidation). We were an old chain with a tired look and finding it hard to attract investors who wanted to help us develop a new life with a new look and become profitable again. I was the director of operations, so some of it was under my control, but only to the degree which the market would allow us to perform and to the degree other people (especially our creditors) were watching our cash flow. We had 50 units and we were in 11 states. That made the job very difficult.
I remember my last day on the job. We had filed Chapter 7 and I was unemployed. I was on the street looking for a job. Through a variety of circumstances, I was able to get a start in commercial real estate. I was about to really learn the difference between a W-2 (regular paycheck) and a 1099 (sometimes no paycheck). It was startling when I realized the risk I had just accepted having no real knowledge of the business and without any clients. At this point I was trying to support myself, my wife (who also was working at that time), and our three young children, while making two car payments and a house payment, and trying to provide enough income to pay for daily expenses. I can remember going to a bank and borrowing $10,000 to help pay bills. That money was gone in less than a week. Talk about a situation filled with risk. Ughh! I don't think I could have found a riskier set of circumstances with so little hope of resolution in a reasonable period of time. In any case, I wasn't looking!
In a situation like that, I believe you just put your head down, push forward, keep your nose clean and your reputation polished, and do the best you can to make the best of a bad situation where the risk just keeps rolling in and piling up. Intuitively I knew that if I successfully got through the risk I was encountering, I would have my reward of some kind. Isn't that why we do these types of things? The reward! But I had to stay focused. I could not take my eyes off the prize. I had written goals so that I never lost focus, I worked 16-18 hours a day, and I always took that last appointment no matter how tired I was.
And it worked. My children not only grew up with the typical amenities, but I was also able to provide college educations and some travel experiences for them. I am still in the same house (paid off) with my wife. We have been able to save significantly over the years. At work, I now have a staff of four that has been with me between 5-13 years. I have been Salesperson of the Year more than half of the past 17 years. I believe I was well rewarded, certainly commensurate with the risk I took. It was a huge risk, and I think I got the reward I deserved.
Here's my suggestion: Don't be afraid of risks and take them as often as possible. That could be the best path to push yourself forward and make things happen in your life. You need to step off the edge and take those risky experiences to keep yourself moving forward, always positioned to better yourself.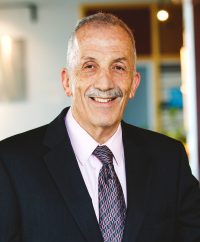 Bill Gladstone, CCIM, SIOR
NAI CIR - Bill Gladstone Group
Bill has been active in commercial real estate since 1987 and has been among the top three agents at NAI CIR in Lemoyne, PA for the last 10 years. His continued success is a direct result of the value-added services he provides to all the transactions, regardless of size. As part of a group of six, he oversees the marketing for a revolving inventory of approximately 85 listings and over 300 acres of land. He is a CCIM and SIOR, two of the most prestigious designations in the field of commercial real estate.
Featured in Commercial Real Estate Review – Third Quarter 2018