By Kenneth J. McDermott, Esq.
Recent changes to the alcohol laws in Pennsylvania have dramatically increased the number of businesses seeking liquor licenses, specifically gas stations and grocery stores. Large retailers, such as Wal-Mart and Target, have also recently purchased licenses, indicating another wave of buyers may be entering the picture. Despite the significant increase in the number of businesses seeking liquor licenses, the supply of licenses has generally remained the same.
Retail liquor licenses, such as restaurant liquor licenses, are county-specific and are issued on a quota system – one license for every 3,000 residents in that county. Most counties met or exceeded their quota decades ago, meaning there are no new licenses available to issue. In some areas of the state, this has led to skyrocketing prices for liquor licenses. Recent listings for restaurant licenses (to sell beer, wine and liquor) have commanded prices of over $600,000 in Cumberland County (likely the highest in the entire state), $385,000 in Bucks County, $345,000 in Lancaster County and $165,000 in Dauphin County. The cost of a liquor license is prohibitively high for many restaurants and bars that are new and independent of any franchise or large restaurant group. However, there are a few options that exist outside of the usual liquor license marketplace that businesses wishing to offer their customers alcohol may consider.
Liquor License Auction
The Pennsylvania Legislature was at least partially aware that its changes to the state's alcohol laws would cause license demand to increase substantially; however, without undoing the entire quota system upon which the marketplace is based, there were few options available to counter this. Instead of adjusting the quota amount directly to increase the number of licenses available to each county, the Legislature created an auction process wherein the Pennsylvania Liquor Control Board (PLCB) would be allowed to revive old licenses that have expired and sell them to the highest bidder. This has created a slow trickle of "new" licenses being added to the marketplace.
With demand still high, the first few auctions were dominated by gas stations and grocery stores trying to roll-out consistent alcohol availability across their stores statewide. That did little to reduce the liquor license prices in the short term; however, the 10th auction is concluding and there have been substantial decreases in prices for some counties, as well as some licenses receiving no bids at all. This creates an opportunity for a restaurant or bar to obtain a liquor license for a substantial discount. The minimum bid for a restaurant license is $25,000, far below the marketplace price for most restaurant licenses.
For example, the winning bid in an auction held in November 2018 for a Dauphin County license was $35,300 (recall there is a current listing of $165,000). A few months later in March 2019, no one bid on the Dauphin County license up for auction, meaning if someone had submitted the minimum bid of $25,000, it could have been theirs. Instead, the license was placed back in the pool to be auctioned again at a later date. The PLCB has been conducting the auctions two to three times per year. Additional information and all past auction results can be found can be found on the PLCB website in the Licensing section, under "Resources for Licensees."
Economic Development Liquor License
Another option for a business that may be unable or unwilling to pay the current marketplace price for a liquor license is to obtain an economic development license. Although this is not a new program, it has not been widely used, likely due to the additional processes involved. There are a number of requirements that must be met before a business can even submit an application for such a license, including that the business is either in a Keystone Opportunity Zone or an area designated as an enterprise zone by the Department of Community and Economic Development, or the relevant municipality has approved the issuance of the license for the purpose of local economic development.
In addition to these pre-qualifications, there are other restrictions controlling economic development liquor licenses, such as the business's food and non-alcoholic beverage sales must be at least equal to 50% of its sales of food and alcoholic beverages. Additionally, this type of license cannot be transferred to another location — it must remain at the location for which it was approved. This generally means that an economic development liquor license does not have the marketplace value of a regular liquor license. If a business wishes to sell to another buyer, it would need to sell the business as a whole and the new owner would need to continue operations at the current location. In exchange for these requirements, the cost to obtain an economic development liquor license is far less than the typical market rate — either $25,000 or $50,000 depending on the county class.
Saxton & Stump was recently successful in leveraging the economic development liquor license option to benefit one of our clients. Our client wanted to open a restaurant in a township that recently went from banning the sales of alcohol ("dry") to allowing alcohol sales. The township was in Cumberland County, which, as previously mentioned, has the highest liquor license cost in the state. With licenses commanding prices of over $600,000, it would have been impossible for our client's family-owned restaurant to finance the purchase of a liquor license in addition to the other costs associated with opening a new restaurant. Although the restaurant was not located in a Keystone Opportunity Zone or enterprise zone, we were able to secure the township's approval of the license for purposes of economic development. The PLCB is limited to issuing only one or two economic development licenses per county per year, depending on the size of the county; however, in the 16 years that the economic development license program has been in effect, only two licenses have been issued for Cumberland County. Nonetheless, we made sure to submit the application at the earliest opportunity to ensure our client was the first in line if other applications were filed. Once the application is filed, the process is generally the same as any other liquor license application. Although there were a lot of additional processes we had to complete prior to receiving the license, to be able to obtain a license for $50,000 instead of $600,000 was a significant benefit to our client's business.
Manufacturer Storage Licenses
Another option available to allow alcohol service in a restaurant without the need to purchase a full liquor license is for the restaurant to partner with a Pennsylvania alcohol manufacturer. Pennsylvania breweries, wineries and distilleries are permitted to sell alcohol at their manufacturing location but are also able to apply for additional licenses to sell alcohol at other locations. For breweries, the licenses are known as "storage" licenses and each brewery can apply for two additional locations. For limited wineries and limited distilleries, the licenses permit up to five additional "satellite" locations. Thanks to another recent change to the liquor laws, an alcohol manufacturer can now sell its own alcoholic beverages, as well as the alcoholic beverages produced by any other Pennsylvania alcohol manufacturer, even at its satellite or storage license locations. This effectively means that a Pennsylvania-licensed alcohol manufacturer has the equivalent of a full restaurant liquor license but is limited to Pennsylvania-produced alcohol products. A Pennsylvania brewery, for example, can sell its own beer, beer made by other Pennsylvania-licensed breweries, wine made by Pennsylvania wineries and spirits made by Pennsylvania distilleries. In order to take advantage of this opportunity, currently unlicensed restaurants would need to lease an area of their premises to a brewery, winery or distillery. All alcohol sales must occur within the manufacturer's designated space, which will need to be partitioned in some manner from the unlicensed restaurant space. This is due to the fact that interior connections between licensed businesses and unlicensed businesses are generally prohibited, but as you have likely observed in your local grocery store, those connections and partitions are approved on a consistent and lenient basis.
It can be difficult to make this approach look seamless with the current restaurant operations; however, if a restaurant believes that having some alcohol availability would increase its food sales, it may be worth considering in lieu of a full restaurant liquor license.
Pennsylvania is known for having some of the most challenging liquor licensing laws in the country. When looking to launch a business or open a new location to offer alcohol to customers, an experienced attorney can help you navigate the highly regulated industry and provide guidance on licensing issues. Before paying full marketplace price to purchase a license, Saxton & Stump's attorneys can partner with you to understand your business goals and develop an individualized approach.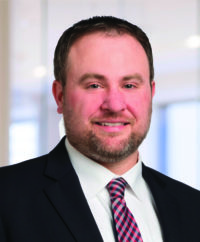 Kenneth J. McDermott, Esq.
Saxton & Stump
Kenneth J. McDermott, Esq. is a liquor licensing and alcohol law attorney at Saxton & Stump with more than 10 years of experience helping Pennsylvania's alcohol manufacturers and retailers open their doors and reach their business goals. In addition to providing guidance on licensing issues, he has successfully appealed decisions by the Pennsylvania Liquor Control Board and defended clients in citation actions. Ken is a passionate advocate for the industry and maintains an active Twitter account, @PA_Alcohol_Law. He can be reached at kjm@saxtonstump.com or (717) 941-1211.
Featured in Commercial Real Estate Review – First Quarter 2020