By Dan Grove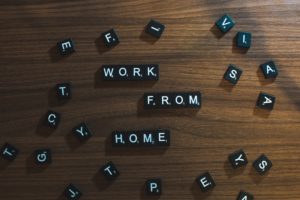 If ever there is a song applicable to the business world today, it is Bob Dylan's "The Times They Are A-Changin'." On the positive side, change can often uncover opportunities to improve processes and workflows. I hope your organization has experienced this and has taken action. If not, maybe we can spur some thoughts and make change happen. Many of us have adapted to changes over the last year and a half by working remotely or adopting a hybrid remote and office schedule. Either way, working remotely has benefits and concerns that should be addressed.
Poor or no access to information, data, forms and documents makes performing everyday tasks and collaboration impossible or difficult at best. Sixteen percent of remote workers report problems collaborating or communicating.* Fortunately, there is a wide array of technology to help solve these issues. Although every organization may be at a different stage of digitization, the further your workflows are in a digital form, the easier it will be to improve access.   Advanced in digital or not, cloud based services are a fast way to get up and running for many applications. These services provide secure access for employees and are scalable as your needs change, and scalability is a wonderful thing to have when change happens. Could you imagine having a gas and brake pedal for every resource you use in business?
While there are many steps toward realizing benefits from digitizing, there are generally five stages for this optimization:
As a starting point, while reducing storage cost and providing backup, current paper based assets must be scanned;
To enable collaboration, increase access and efficiency, digital assets are categorized and stored in a uniform structure;
Increase productivity and standardization while improving data quality by automating manual tasks. This includes but is not limited to electronic forms;
Overcome information silos and improve analytics by simplifying and streamlining processes and workflows;
Hone predictive analytics to increase agility, control costs and improve business processes.
Remote work has accelerated to what I like to call "the less paper office". Thinking – since the paperless office was first publicized in 1975, only a few can claim to be totally paperless today, and I have to believe someone is jotting notes on a napkin from time to time. We certainly have seen less paper in many processes; however, I find it hard to believe we will get to no paper anytime soon. I also believe that there are appropriate applications for both digital and analog/physical documents in our business and personal lives. In the mean time, your current office copier or multifunctional device may have some technology to help you along the less paper trail.
First let's talk about hold or lock print. This may go by another name with your device as it does vary among manufacturers. The basic idea is that you send your documents to the device with an instruction to hold the prints until you or a designated person releases them to print. If they are not released, you can typically auto erase them from memory at a set period. This eliminates unclaimed, accidental, and those print jobs that mix into someone else's work. For remote workers on a VPN (virtual private network), they can print their work and retrieve on the next office visit or work with someone to release and distribute documents. The lock version of this tool allows you to password protect sensitive information and is a great way to eliminate the need for small, inefficient personal printers used for document security reasons.
Multifunctional devices have the ability to quickly scan hardcopy documents into a digital file. Document management software helps you organize and control your digital assets. Some software will accept different file types while others may be more specific. For long-term storage and use, PDF and TIFF are the most common files used. If you choose PDF you may want to consider PDF/A as it preserves more data, ensuring usability in the future. You will want to scan in black and white unless color is really needed, as color files are three times the size of black and white. It is also important to scan at the best DPI or dots per inch. Two hundred dpi is generally good for basic text. The higher the number, the better the image, however the file size grows exponentially which fills storage faster and slows processing.
If your workflows include FAX inbound or outbound, there are two simple tools you may already have. A digital fax forwarding option allows incoming faxes to forward to a folder or email address in a digital format rather than printing out. This process not only eliminates the printing, but also allows the document to be transferred to the end user quickly and conveniently with email or file sharing. On the outbound side, LAN faxing enables you to send a fax directly from a digital file without printing it and sending as you may have faxed a document in the past. This printing and time-saving tool works like a print driver but instead converts your file to the fax language and allows you to send it through a fax-enabled multifunctional copier. A great way to eliminate the short, print-fax-trash document lifecycle. As with fax forwarding, your service provider should be able to set this tool up for you. Using a VPN, both of these tools could give remote workers easy access to the FAX device and its' number, just like they were at the office.
Change has unfortunately created opportunities for unscrupulous hackers too. Internet security should always be a concern to any business and remote workers should be taken into consideration in a security plan. According to an internet poll, thirty six percent of companies have experienced a security incident because of a remote worker's action.** Every device that employees use should meet your organizations security standards. With almost every device connected to the internet in some way, your plan has to take this fact into consideration. A fact that is often overlooked is that these devices operate on software, and software must be updated to maximize the security hardness. An effective security plan should include the evaluation, update or replacement of devices periodically.
The increase in work from home has also necessitated adding print devices or increasing the use of existing devices. Like many tools, these devices have their best application and use depending on several variables. Because of the recent demand, the supply of some devices has been affected and less than ideal devices have been placed in service. If your organization utilizes an effective Managed Print Services (MPS) program you will be using the proper devices as changes occur. Without a MPS program, inefficient devices may be put in place, thereby causing higher costs and posing possible security risks. MPS programs use software to pull together the data capturing abilities that are embedded in print devices. Data can be analyzed and decisions can be made to optimize efficiency and cost reduction along with increasing security. This technology is applied to policies and standards that have been established to manage the print fleet for optimum results.
To wrap this up, please remember that some of the most dangerous words spoken in business are "we have always done it this way". Make the best of changin' times or at least embrace them as much as possible when you are able.
*https://buffer.com/2021-state-of-remote-work
** https://openvpn.net/remote-workforce-cybersecurity-quick-poll/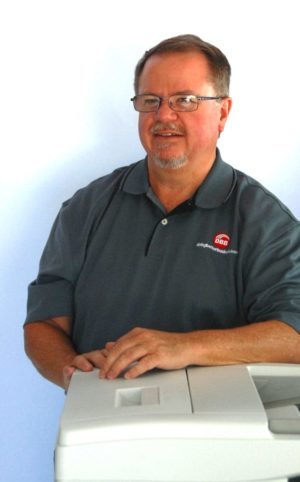 Dan Grove
Dan Grove started his career in commercial and in-plant printing. Twenty years ago, he joined the team at Doing Better Business in the office technology industry. Holding positions in sales and as a product specialist, Dan is now the Director of Marketing at DBB. For more information, you can email him at dgrove@doingbetterbusiness.com
Featured in Harrisburg Commercial Real Estate Report – July 2021